Marcia Graddon, ATC, BOCPD
—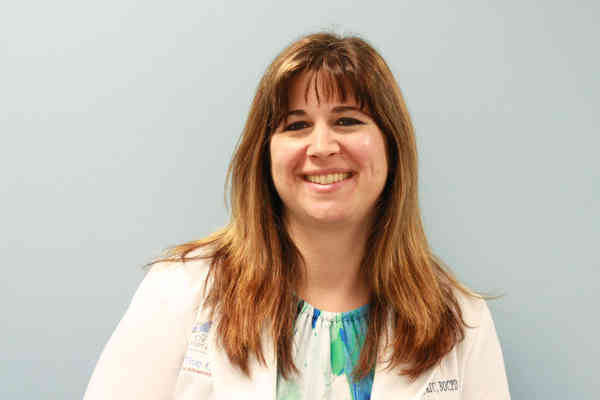 Biography
Marcia graduated from the University of Rhode Island in 1995 with a Bachelors of Science in Sports Medicine/Athletic Training along with a minor in Studio Art. Following her degree in Sports Medicine, she furthered her education and became a certified Pedorthist specializing in the foot and ankle. She has been practicing for over 23 years in a variety of settings including the 1996 Olympic Games in Atlanta, Processional men's USL Division III Soccer, Clinical Rehabilitation, High School, and Collegiate sports. She spent 7 of those 23 years working in and around New Hampshire before moving down to Northern Virginia in 2003 after getting married.
In early 2004, she took a position working for the Training Room, Inc. in Arlington, VA as an Athletic Trainer and contract employee for Dr. Neufeld and The Anderson Orthopaedic Clinic. Her duties included custom and non-custom bracing, orthotic fitting, and Durable Medical Equipment fitting, casting, and patient education.
After Dr. Neufeld started his own practice in 2006, Marcia joined him and started working full time at The Orthopaedic Foot and Ankle Center. She is currently the Director of Orthotics and Bracing for the office and helped to create and expand the retail division Remarkable Feet. In 2015 she grew her department and started offering patients same day custom orthotics. Following with her love of art, Marcia has a patented ankle brace and continues to create new methods and devices to advance her field.
Areas Of Expertise
Foot & Ankle
Sports Medicine
Gait Analysis
Certifications
Certified Pedorthist
Board Certified and Licensed Athletic Trainer
BLS: American Heart Association
Undergraduate
University of Rhode Island, BS in Sports Medicine; Kingston, R.I.
Clinical Program
University of Rhode Island
Professional Affiliations
National Athletic Trainers Association
Pedorthic Footcare Association
Personal Interests
Inventing new innovative medical products in Foot & Ankle
Painting
Scuba Diving
And most of all spending time with my husband and 2 children being "Mom"