July 8, 2010
Revolutionary New Bunion Surgery Offers Mobility While Healing This Summer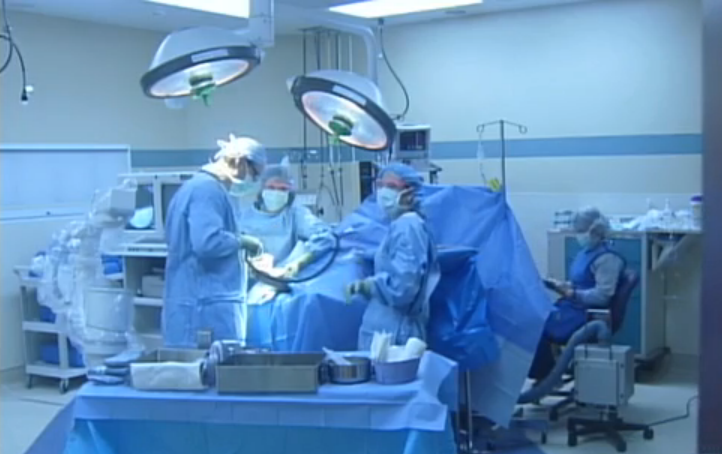 Surgeon/Inventor Dr. Steven K. Neufeld Reports Patients Walking While Healing
Arlington, VA (July 8, 2010) – Bunion sufferers can shed their insecurities and confidently slip into sandals this summer thanks to Dr. Steven Neufeld's development of the revolutionary Ludloff Plate™. The Ludloff Plate has catapulted an improvement in the quality of life for patients who previously suffered with bunions from all across the country.
Before Oprah bravely shared her struggles with bunions, the American Podiatric Association had recorded that of the 39% of women who wear high heels every day, three out four of these women reported shoe-related problems. This condition is a quiet one- rarely discussed even among friends. A bunion occurs when a patient's big toe points toward the second toe causing a bump on the inside edge of one's toe. Symptoms include red, calloused skin along the inside edge of the big toe and varying pain over the joint. Although bunions are typically genetic, shoes with little to no support, such as flip-flops and high heels can aggravate this condition.
Until Dr. Neufeld's Ludloff Plate, patients suffering from moderate to severe bunions were forced to endure the pain and embarrassment of the condition, or agree to a surgery that would keep them off their feet for six weeks. Dr. Neufeld explains, "Many bunion patients have avoided surgery for years, even decades, because the traditional procedure requires the patient to stay off the foot for six weeks with very limited use of crutches; patient morale is often low. The casts cause surrounding muscles to atrophy. Before the development of the Ludloff Plate, if a patient walked on their foot before six weeks, it was extremely painful and their surgical results could be lost."
Dr. Neufeld was determined to create a solution. Dr. Neufeld describes how the Ludloff Plate works, "I developed a plate that is surgically implanted into the foot and holds the bone in its correct position. The purpose of plate is to make it strong enough so people can walk on it as soon as possible. We like to see patients walking and get them into rehabilitation immediately to promote an optimal outcome." Bunion surgery integrating the Ludloff Plate restores patient mobility within days of post-op. During the last 12 months, over 90 Ludloff Bunion procedures have been performed across the country with resounding success.
With Dr. Neufeld's Ludloff Plate, patients no longer have to suffer in silence and can finally enjoy their summer in sandals.
About Orthopedic Foot and Ankle Center
As the founder and managing partner of Orthopedic Foot and Ankle Center in Arlington, VA, Dr. Neufeld, remains committed to an exceptionally integrated and caring approach. Together with Dr. Matthew Buchanan, Dr. Evetta Borden, and their extraordinary team of podiatrists, physical therapists, athletic trainers, and orthotics and custom shoe and inserts experts, Orthopedic Foot and Ankle Center has become the leading edge foot and ankle care team. Special interests include total ankle replacement, bunion and hammertoe correction, diabetic foot health and wound care, among other foot and ankle conditions. For more information, please visit www.footankledc.com.