May 4, 2021
Patient Responsibilities Before & After a Total Ankle Replacement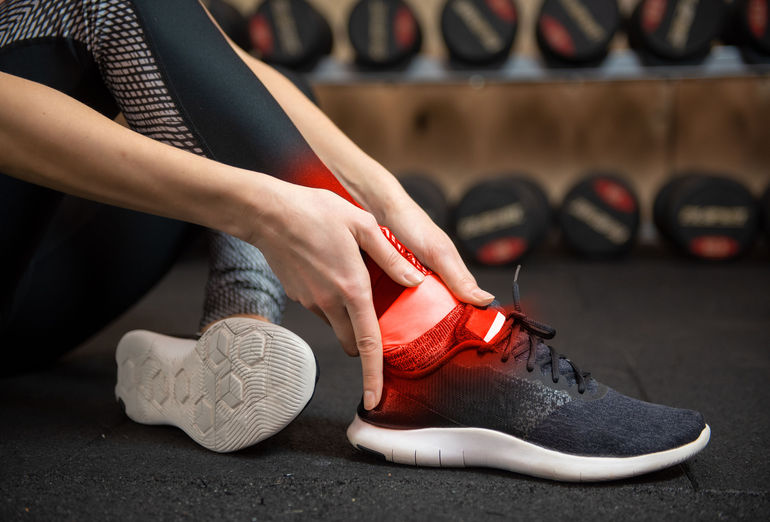 Total ankle replacement surgery can help significantly reduce ankle pain, but patients have to take a proactive role in their own recovery. In this article, we are going to talk about some of the patient responsibilities before and after a total ankle replacement procedure.
Pre-Operative Testing
Please schedule your surgical clearance visit with your Primary Care Physician (PCP) within 30 days of your scheduled surgery, and at least one week prior to your pre-operative visit. This appointment will be to perform a physical examination, and order any necessary tests, such as blood work, chest x-ray or an EKG. Individuals over 50 or any patient with cardiac risk factors as determined by your PCP require a pre-operative EKG, CBC, CMP. Other tests are patient specific and are ordered at the discretion of your PCP.
In some cases, your PCP will require that you have special testing before you are scheduled for surgery, especially if you have a history of heart disease, diabetes, smoking, or have problems with circulation of blood to your feet. These tests are necessary to be sure you are safe for surgery and that the surgery will be successful.
Pre-Operative Visit
A pre-operative visit with one of OFAC's physician assistants is required approximately 1 week prior to your surgery date. This visit is to go over post-operative prescriptions, answer any last minute questions you may have, and obtain any necessary medical equipment. Please bring a current list of your medications along with dosages to this appointment. We recommend you bring someone with you to your pre-operative office visit for caregiver instructions.
Pre-Surgical Interviews
Your surgery will be scheduled at INOVA Fairfax Hospital. A nurse from that facility will contact you to complete your pre-operative phone interview.
Your Financial Responsibility
Our business office staff will contact your insurance carrier and ascertain your financial obligation prior to your surgery. This is for your surgeon's portion of the surgery ONLY. You will receive separate statements from the anesthesiologist and the facility. If you have any questions, please call our insurance specialist, at 703-584-2040 extension 1753.
Referrals: If your health insurance company requires you to have referrals to see one of the OFAC providers, you must obtain the referral from your PCP before any appointments. It is your responsibility to contact the appropriate parties to ensure that the referral reaches the office.
Pre-authorization: Pre-authorization (or pre-certification) is often confused with a referral, but it is very different. Information from the referral is used to authorize procedures such as those performed in the office, outpatient testing (i.e. MRI or CT scan), and surgery.
The Orthopaedic Foot & Ankle Center completes the surgery pre-certification with your health insurance company. In rare instances, your surgery may be delayed due to insurance issues. You will be notified immediately if this occurs. Our staff will work diligently to provide the needed information to the insurance company in order to receive approval.
Extended care facilities: In some instances, you may want to consider recuperating in an extended care facility or rehabilitation center. In order for your insurance company to pay for the admission, certain strict criteria must be met.
Some health insurance companies do not pay for admission to an extended care facility or for visiting nurse care. You may choose to pay for these services on an out-of-pocket basis. We urge you to contact your health insurance company to discuss your needs and your coverage as soon as your surgery date has been determined.
Prescription Medications
The hospital or surgical center will give you specific instructions on which medications you may or may not take the morning of your surgery. If you do not get this information, please contact our office for instructions.
If you take medications such as anti-inflammatories (aspirin, ibuprofen, Motrin, Advil, Naprosyn, Lodine, Voltaren, Relafen), vitamin E, or herbal supplements, they must be stopped 10 days prior to surgery. Surgery may be cancelled if you do not stop these medications.
If you take medications such as Coumadin, blood thinners, insulin or steroids, contact the prescribing provider for specific instructions on stopping or tapering the dosage before your surgery. Again, surgery may be cancelled if these medications are not stopped or the dosing modified.
Daily Aspirin Therapy for the prevention of blood clots (deep vein thrombosis or DVT).
If you are placed in a cast or a boot after your surgery, we recommend a single adult dose aspirin (325mg) daily during this time to aid in prevention of DVT. This should be started the night you get home from surgery. Please speak with your primary care regarding this recommendation. If your PCP feels that you are unable to take a daily aspirin please let the Physician Assistant know at your pre-operative visit.
Smoking
It is essential that you stop smoking a minimum of one month before surgery and continue at least three months post-operatively. There is up to a 20-fold increase in risk and/or complications with wound and bone healing for patients who smoke. If you continue to smoke, you will place your surgery and its outcome at risk. If you need referrals to a support group to help you quit smoking, we will be happy to assist you. Please contact your primary care provider for other assistance.