September 11, 2019
Our New Arlington Clinic Opens September 16, 2019!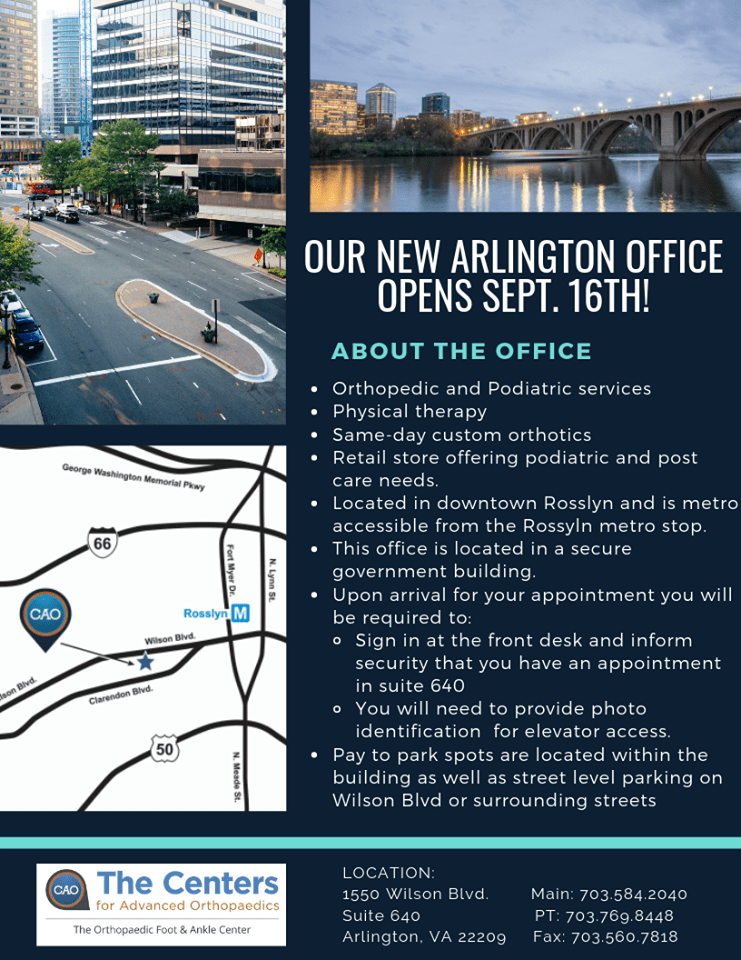 We are excited to announce the opening of our new foot and ankle orthopedic clinic on September 16 in Arlington, VA. Learn more about our new clinic below!
About the New Arlington Foot & Ankle Clinic
Here are some additional details about our new Arlington foot and ankle clinic:
Orthopedic and Podiatric Services
Physical Therapy
Same-day Custom Orthotics
Retail Store Offering Podiatric and Post-Care Needs
Located in Downtown Rosslyn and is Metro Accessible from the Rosslyn Metro Stop
Located in a Secure Government Building
Pay to Park Spots Located Within the Building as well as Street Level Parking on Wilson Blvd or Surrounding Streets
Upon Arrival for Your Appointment You Will Be Required to:

Sign in at the front desk and inform security that you have an appointment in suite 640
Provide photo identification for elevator access
Contact Info for Our New Arlington Clinic
1550 Wilson Blvd.
Suite 640
Arlington, VA 22209
Mail: 703.584.2040
PT: 703.769.8448
Fax: 703.560.7818
Services Provided at the Arlington Clinic
Minimally-Invasive Bunion Surgery
Sports and Dance Medicine Specialists
Surgical & Non-Surgical Treatments of Foot and Ankle Problems
Total Ankle Replacement
Same-Day Custom Orthotics
Full Body Physical Therapy
Dry Needling
Diabetic Foot Care
Retail Store Offering Shoes and Other Post Care Needs
On-Site Digital X-Rays
Providers at Our Arlington Clinic
Steven Neufeld, MD
Daniel J. Cuttica, DO
Thomas H. Sanders, MD
Arthur Black, DPM
Nathaniel Schaefer, PA-C
Caroline L. Davis, PA-C
Matthew Bernier, PT, MPTF
Camille Davis, PT
Kathleen Torre, PT, DPT, CSCS, RRCA Certified Running Coach
Marica Graddon, ATC, DOCPD
Jennifer Sippel, ATC
If you live in Arlington, VA or the surrounding area, contact us today at our new Arlington foot and ankle clinic to set up an appointment with one of our experienced providers.