Daniel J. Cuttica, D.O.
Northern Virginia Magazine Top Doctor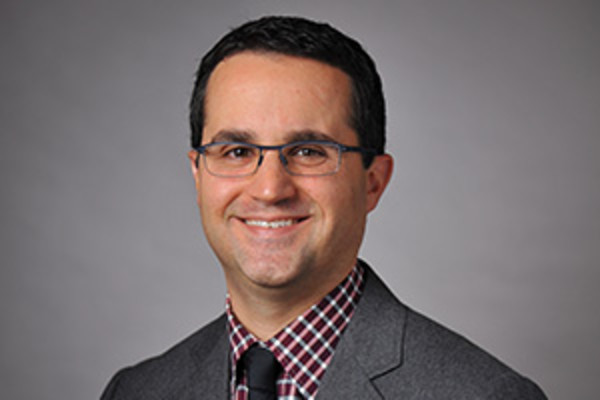 Biography
Daniel J. Cuttica is a board-certified orthopaedic surgeon, with fellowship training in foot and ankle surgery. He has medical staff privileges at Inova Fairfax and Fair Oaks Hospitals, Virginia Hospital Center, as well as Advanced Surgery Center of Bethesda, and Inova McLean Ambulatory Surgery Center.
Dr. Cuttica has expertise in both common and complex disorders of the foot and ankle. His clinical interests include all aspects of foot and ankle reconstruction, including cartilage disorders and restoration, total ankle replacement, sports-related foot and ankle disorders, arthroscopy and minimally invasive procedures, dance medicine, forefoot reconstruction, and diabetic limbs.
Dr. Cuttica was the recipient of the Robert L. Green award, which is awarded annually to the member of the American Osteopathic Academy of Orthopedics who achieved the highest combined score in the written and oral orthopedic surgery board certification exams. He has also been awarded for his groundbreaking research on MRI evaluation following surgical treatment of cartilage injuries in the ankle. Dr. Cuttica has also been selected as a "Top Doctor" by Northern Virginia Magazine.
He is a Medical Alliance Member and orthopaedic consultant for The Washington Ballet. He is the author of numerous publications in peer-reviewed journals, which includes extensive research on the treatment and outcomes of cartilage disorders of the ankle. Other topics include a novel technique to harvest bone graft for hindfoot bone fusion, various techniques to correct complex foot and ankle deformities, surgical treatment of various foot fractures, and the use of a new implant for hammertoe correction that does not require the use of pins. Dr. Cuttica also regularly lectures at national orthopaedic conferences.
Currently, Dr. Cuttica is a reviewer for the peer-reviewed journals Foot and Ankle International and Foot and Ankle Specialist. He serves on the editorial board for www.footeducation.com, an educational website peer-reviewed by orthopaedic surgeons with fellowship training in foot and ankle surgery. Dr. Cuttica is also an Assistant Professor of Clinical Orthopaedic Surgery at Georgetown University School of Medicine.
Areas Of Expertise
Orthopaedic Foot and Ankle Surgery
Reconstructive Surgery; Sports-related Foot and Ankle Disorders


Cartilage Disorders
Ankle Replacement
Diabetic Limb Salvage
Dance Medicine
Specialties
Foot and Ankle Surgery
Total Ankle Replacement
Medical Degree
Ohio University College of Osteopathic Medicine; Athens, OH
Residency
Doctors Hospital and Grant Medical Center; Columbus, OH
Fellowship
Orthopaedic Foot and Ankle Center; Columbus, OH
Certifications
Advanced Certification in Total Ankle Replacement
American Board of Orthopaedic Surgery
Professional Associations
American Osteopathic Association
Active Member, American Osteopathic Academy of Orthopedics
Candidate Member, American Academy of Orthopaedic Surgeons
Candidate Member, American Orthopaedic Foot and Ankle Society
Major Accomplishments
American College of Foot and Ankle Surgeons (ACFAS) Award Winning Poster Presentation
Robert L. Green Award
Reviewer, Foot and Ankle Specialist
Authored Numerous Peer Reviewed Journal Publications
Hospital Affiliations
Inova Fairfax Hospital

Inova Fair Oaks Hospital
Virginia Hospital Center
Affiliated Surgery Centers
Advanced Surgery Center of Bethesda
Fairfax Surgery Center
Inova McLean Surgery Center