Ankle Arthritis and Total Ankle Arthroplasty (Replacement)
What is total ankle arthroplasty (TAA)?
A total ankle arthroplasty (replacement) is a surgical procedure performed by orthopaedic foot and ankle surgeons to treat end-stage ankle arthritis. It involves resurfacing the end of the tibia (shin bone) and the talus (lower bone of the ankle) with metal components and placing a plastic piece in between them. A total knee and hip replacement similarly has two metal pieces with a plastic piece in between.
What is ankle arthritis and what causes it?
Cartilage is a perfectly smooth and resilient layer over all joints that allows pain-free motion. Ankle arthritis involves the loss of cartilage in the ankle joint. Over time, bone spurs, pain, and deformity may also develop. The ankle is the most commonly injured joint in the body and bears the most weight per square centimeter. It is composed of 3 articulations made up of the tibia, fibula, and talus. The cartilage is very thin in the ankle compared to the hip and knee. The ankle bears 5-7 times body weight during walking. The ankle is highly congruent, meaning that the talus matches the shape of the end of the fibula and tibia very well. If a patient loses the congruency from instability (repeated ankle sprains) or a previous fracture, arthritis may develop.
Who can develop ankle arthritis?
People who have had ankle injuries including fractures and sprains
Family history of ankle arthritis
Rheumatoid and other types of arthritis
Ankle infections
Evaluation and Diagnosis
In evaluating and diagnosing your condition, your orthopedic surgeon will ask you about any previous ankle injuries, including significant sprains and broken bones. The ankle will be examined to check for tender areas, signs of swelling, motion, and deformity. Weightbearing X-rays (radiographs) are obtained to show the alignment of the ankle and is commonly the only diagnostic test needed to confirm ankle arthritis. One cannot ignore the shape of the foot when treating end-stage ankle arthritis so weightbearing foot radiographs are commonly obtained. These images also may reveal arthritis in joints of the foot. A CT scan may also be obtained to further define the arthritis and evaluate bone loss if present. An MRI is rarely needed in the work up of ankle arthritis.
Treatment Options
Treatment for ankle arthritis is based on the results of the clinical history and examination, radiographs, and on the patient's level of activity.
Non-Surgical treatment may include:
Orthotics - Changing the alignment of your foot and/or ankle can improve the symptoms.
Bracing - Braces can range from sports braces with laces and velcro to custom sturdy leather braces (Arizona brace).
Physical therapy - Therapy is most effective when the arthritis is associated with instability. Therapy can improve the stability of the ankle by strengthening the muscles. Therapy can also help keep the ankle moving, which is important to maintain healthy joints.
Medications - Nonsteroidal anti-inflammatory drugs (NSAIDS), such as ibuprofen, naproxen, or meloxicam, may be prescribed to reduce pain and inflammation.
Steroid Injections - Injecting a steroid into the ankle joint can significantly reduce inflammation and reduce pain.
Activity Modification - Athletic individuals may alter the intensity and frequency of the sports that they play.
If non-surgical management fails to relieve pain adequately, surgery is something to discuss with your foot & ankle surgeon. If symptoms are mild your surgeon may suggest using arthroscopic techniques to help you. Arthroscopy generally involves using a small camera to evaluate the ankle and small instruments to remove damaged cartilage and damaged tissue. Arthroscopic procedures use small incisions and are minimally invasive.
When the arthritis is more advanced and pain continues, there are two common treatments:
Ankle arthrodesis (fusion)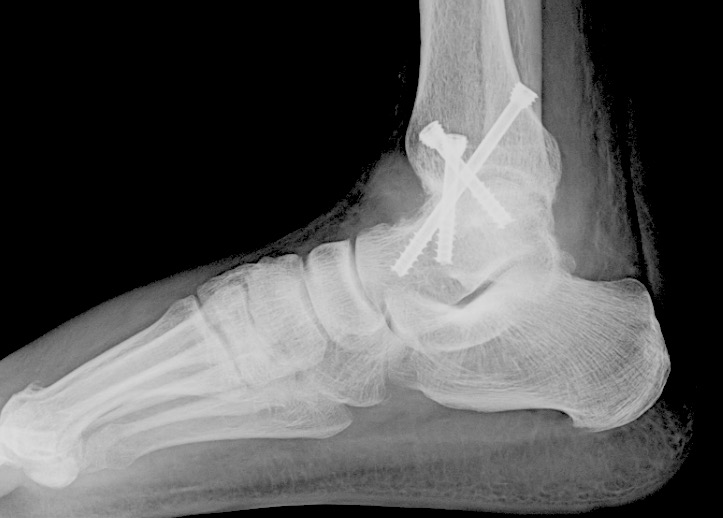 This surgical procedure involves growing the end of the tibia to the talus. In other words, the two bones that normally move in the ankle are transformed into one solid bone that no longer moves. This may be done arthroscopically or through a larger incision. Typically, screws alone or plates and screws are used to stabilize the fusion. Though the ankle does not move, the pain is dramatically reduced. You are likely at an increased risk of developing arthritis in other joints in your foot after this procedure. Your surgeon should discuss an ankle fusion with you, even if you are still a candidate for a total ankle replacement. Patients are nonweightbearing for at least 6 weeks after an ankle fusion in a splint or cast.
Total ankle arthroplasty (ankle replacement)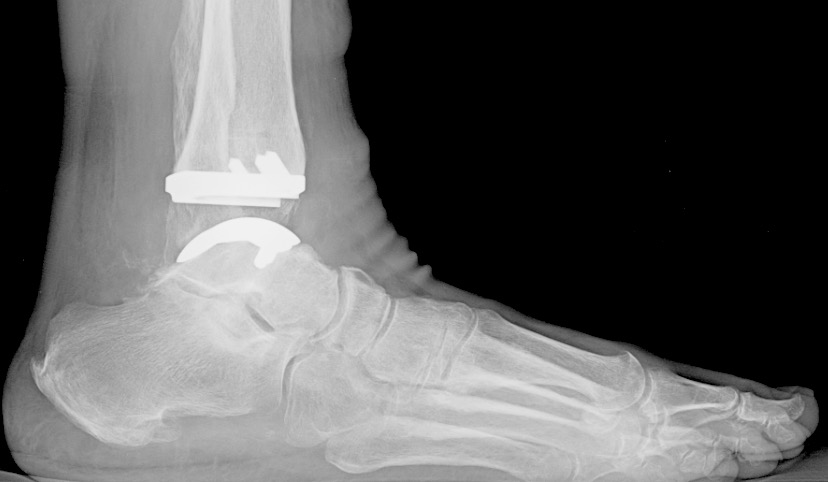 With this procedure, the motion is preserved at the ankle. This reduces the stress on the joints of the foot and may decrease the chances of developing arthritis in them. New implant designs have much better success rates than older designs. The ability of the new ankle joint to move up and down is considered an advantage over an ankle fusion. But like all joint replacements, an ankle replacement can wear out over time.
An ankle replacement is commonly performed under general anesthetic with a nerve block. The ankle is approached from the front or side. Bone is then cut and removed, allowing for placement of the metal and plastic components that re-create the ankle joint. The wound is then closed using stitches and a splint is applied. The patient is typically nonweightbearing for 2-3 weeks to allow for the incision to heal. Once the incision is healed, the patient can commonly bear weight in a boot and physical therapy is started. Recovery from an ankle replacement may take 6 to 12 months.
Who should not have an Ankle Replacement?
Not everyone is a good candidate for an ankle replacement. Ankles that are severely deformed or have had an infection in the past may do better with an ankle fusion. Patients with serious medical problems or blood flow problems are not good candidates for an ankle replacement either.
Who performs an Ankle Replacement?
Total ankle replacement surgery is a complicated procedure and should only be performed by a foot and ankle surgeon. There are risks with ankle replacement surgery including infection, healing problems and loosening or wearing out the metal and plastic. If these complications develop, additional surgery is usually needed.
The Orthopaedic Foot & Ankle Center of Washington Total Ankle Replacement Program
The Total Ankle Replacement program is made up of a multidisciplinary team dedicated to providing the best care for patients with ankle arthritis. The program includes the nation's top-trained foot & ankle surgeons who have the greatest experience with total ankle replacements. All surgeons are fellowship trained in advanced foot & ankle reconstruction, are all board certified and held to the highest standards.
The Total Ankle Replacement program is a "Center of Excellence" using established and new techniques centered on a team approach. In addition to the foot & ankle surgeons, the team consists of primary care providers, nurses, physician assistants and physical therapists. These providers help educate, prepare and care for the patient before and after their surgery. Anesthesiologists specialty trained in nerve blocks and regional anesthesia, help with pre and post-surgical pain. Patients attend a pre-surgery "joint education" class taught by our Total Ankle Replacement program nurses and coordinators. Patients will meet their physical therapists and social workers that will help them get around after their operation and recover comfortably at their home or at a rehabilitation facility.
The Following Total Ankle Replacements are done by our Surgeons:
The ankle specialists at OFAC are trained to implant all FDA cleared and approved total ankle replacement devices in the U.S. to find the best match for you.
Summary
End-stage ankle arthritis is a life-altering condition. There are a number of different non-operative treatment options. If the non-operative treatment is not effective, surgery can be successful in relieving your pain. Both an ankle fusion and a total ankle replacement can relieve your pain, while a total ankle replacement preserves your motion at the ankle joint.
Contact us
For more information about the Ankle Replacement Program please call our office.
Ankle Replacement

During this procedure, the surgeon removes diseased or damaged portions of the ankle. The surgeon implants an artificial ankle joint consisting of metal and plastic components. The new joint will help reduce pain and restore mobility to the ankle.

Ankle Fusion, Transfibular

This surgical procedure is performed to treat severe arthritis or injury of the ankle joint. During the procedure, the surgeon removes damaged bone and cartilage and fuses the joint. This stabilizes the ankle and relieves pain.

Rheumatoid Arthritis (RA) of the Foot and Ankle (Arthritis Foundation Approved)

Rheumatoid arthritis, a condition that can attack joints throughout the body, commonly affects both feet and both ankles at the same time. It can cause the joints to become swollen and possibly deformed, causing disability.