Laser Nail Treatment
While fungal nails can be painful, unsightly and embarrassing, you are not alone! It is estimated that 25-30 million Americans suffer from over 200 types of nail fungus and, until recently, have had difficulty finding safe and successful treatment options. Topical applications, like Penlac, rarely kill the nail fungus completely and oral medications such as Lamisil can be effective but can have serious side effects. Our new FDA approved and clinically proven HyperBlue laser vaporizes fungi and leaves the surrounding skin unharmed with no dangerous side effects.
About the treatment:
Procedures are performed by our physicians and phsycian assistants
It is a safe and painless treatment
There are no side effects or drugs
No liver enzyme tests are required
There is no recovery time
Only 10 minutes required to treat toenails on both feet
How does it work?
The laser light passes through the toenail without causing damage to the nail or the surrounding skin. At the time of the procedure, the toenail will not become instantly clear, it takes time to grow out.
What can I expect during the appointment?
During the consultation with a provider, a nail clipping will be collected and sent for testing. The procedure will then be performed and any follow up visits will be scheduled.
Will the fungus come back?
Your provider will recommend care techniques to reduce recurrence of the infection. There is a chance of reinfection because the fungus is present everywhere in the environment. Preventative maintenance treatments are also recommended.
When can I paint my nails?
You can apply polish immediately after the treatment. It is important to remove all nail polish and nail decorations the day before your treatment.
Is it covered by my insurance?
If you have a Health Savings Account or Medical IRA, 100% of the cost can be covered. However, in most situatiosn, this procedure is considered aesthetic and therefore health insurance plans do no provide coverage.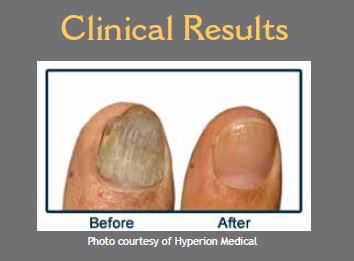 6 months after 3 treatments,
48 patients realized the following results:
| | | |
| --- | --- | --- |
| 100% Clear | 37 | 77% |
| 50% Clear | 8 | 17% |
| Unchanged | 3 | 6% |
| Total | 48 | 100% |
Note: Not all patients in the study realized an improvement. 17% only realized a 50% improvement in the appearance of their toenails.